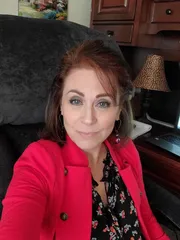 Hello! Welcome!. You are in the right place if you're seeking help in making changes in your life. Anne collaborates with each patient as a unique individual, or couple, and teaches and guides them in making changes with new tools and coping methods that work for them!

My desire is to provide people with a variety of tools that work for them, in order to get the best results and experience true growth and change.
Anne has over 20 years experience as a marriage and family therapist, and graduate of St. Mary's University. Her approach with couples therapy is as varied as the couples she sees. She is trained in a few different approaches including Relational Life Therapy, Gottman and Susan Johnson relationship tools and techniques.

Anne is currently serving as private practitioner working with a broad spectrum of clients. Among her areas of expertise are Cognitive Behavioral Therapy, Anxiety Disorders and Energy Psychology Approaches. Anne is trained in Emotional Freedom Technique. This is a research-based, highly effective approach to heal trauma, anxiety, depression, among other mental and physical health issues.
Anne is warm, approachable, and easy to talk to. She uses an interactive, experiential, multi modal approach to therapy. Her therapeutic approach is to educate clients about alternative ways of approaching problems, and to teach hands-on tools and techniques to help clients effectively address personal life challenges.
She teaches clients how to handle conflicts in a way that encourages healthier, happier relationships; how to communicate more effectively with you partner and others.
She teaches clients how to manage anxiety in ways that quickly and effectively helps decrease, neutralize, and cure symptoms.
She integrates complementary methodologies and techniques to offer a highly personalized approach tailored to each client. With compassion and understanding, she works with each individual to help them build on their strengths and attain the personal growth they are committed to accomplish
Education

Master's of Science in Marriage and Family Therapy, St. Mary's University, San Antonio, Texas (2003)
Master's of Science in Public Administration, The University of Texas, San Antonio (1993)
Bachelor of Science in Elementary Education from Marian University (1988)

License, Certifications & Awards
MA-MFT, Licensed Professional Counselor
Certified Cognitive Behavioral Therapist
Marriage and Family Therapist
Taming Anxiety Toolbox Certification through Carolyn Daitch, Ph.D.

Additional Training
Hypnoanalysis/Age Regression
Medical Hypnosis
Relational Life Couples Therapy, Gottman Method Approach to Marital Therapy
Emotional Freedom Technique